Moonstone Theatre writes and produces it's own work
Current plays are Carter Davies - Secret Agent , Final Curtain, Dead on Arrival, Presumed Guilty, Dead in the Water and, new for 2023, Death in the Final Act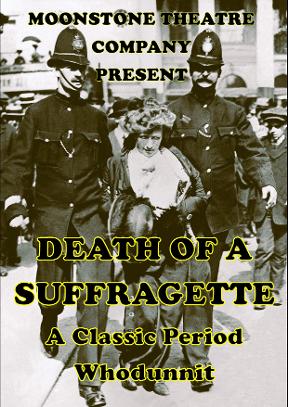 Coming in 2024
Death of a Suffragette
Our new whodunit for 2024 will be premiered at the Manor Pavilion Theatre Sidmouth on the 19th and 20th April. Set in 1935 it looks back across three generations of a family to a death that happened at the height of Suffragette activity earlier in the century. Was it a murder and, if so, will the killer finally face justice. Come along to Sidmouth and find out!
Death in the Final Act
Our new play for 2023 is another original Moonstone whodunnit, Death in the Final Act. The play premiered in Sidmouth at the Manor Pavilion Theatre on the 24th and 25th of March 2023 and will be performed at the Palace Theatre in Paignton on the 10th November. We are also looking to set up other venues around that time.
Dead in the Water
Our brand new stage play, a classic period whodunit, premiered at the Manor Pavilion Theatre Sidmouth in February 2022.
Presumed Guilty
New in 2020. Our brand new original stage play premiered to a sell out audience who braved Storm Denis at the Manor Pavilion Theatre in Sidmouth on the 15th February.
The play wasperformed again in September 2021 at the Palace Avenue Theatre in Paignton
"Dead on Arrival"
New in 2019 was our original Classic Period Whodunit "Dead on Arrival". It is March 1935 and a man is found dead on the train as it pulls into Sidmouth on it's way down from Waterloo. The passengers who shared a compartment with the dead man are asked to stay in the Waiting Room until Detective Chief Inspector Appleby arrives to take charge of the case.
The play had its opening night to a full house at the Manor Pavilion Theatre on the 2nd March.
Carter Davies - Secret Agent a play that lets you:
Relive radio's Golden Age by presenting a live broadcast of one episode of a period radio thriller which transports you back to a time of tantalising adventure serials, derring-do heroes and evil villains. However, these aren't the only protagonists with a tale to tell. The radio actors have an agenda, too …
Our second play Final Curtain premiered at the Manor Pavilion Sidmouth on the 4th March 2017 .
March 1932 - renowned actor Sir Lawrence Middleton comes to Sidmouth with his theatre company to present a play at the Manor Pavilion but all is not well and it is not long before tragedy strikes. Luckily, Detective Chief Inspector Charles Appleby is on hand to investigate!