Making Murder Mysteries Memorable
We perform many different themes, periods and formats to fit with your requirements
Classic Period Murder Mystery
If you're a fan of the Golden Age of the whodunit from authors like Dorothy L Sayers, Margery Allingham, Ngaio Marsh and, the Queen of Crime herself, Agatha Christie, then our Classic Period Murder Mysteries will be just for you.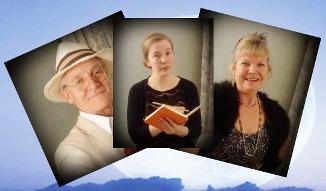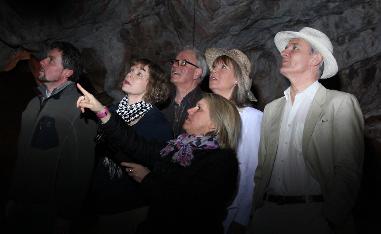 Modern Murder Mysteries
With as much intrigue and just as many clues to solve as our Classic Period stories, these dinner theatre events are set in the present day where such advances as laser testing and DNA should make life easier for our Detective - but do they?
Comedy Murder Mysteries
As with our Classic and Modern stories, all the clues will be there to lead to the right killer but this time the emphasis is on very much on comedy.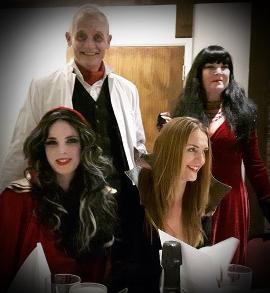 Making Murder Mysteries Memorable
Are you looking for something a bit different to offer your guests or your staff this year?
Would you like to make a Team Building event both fun and effective?
If you're a Hotel or Restaurant do you want to encourage more people to enjoy a dining experience or perhaps give them one more reason to spend time with you?
Do you want to see your staff working together effectively to solve a problem?
Do you want to try something different for that fundraising event?
How about a Murder Mystery for that private party or wedding celebration?
If you're a hotel, restaurant or business, do you want to stand out from your competitors, expand your offer and give your guests or staff an extra story or two to take away with them?
Moonstone Theatre Company has the answer
We are a company of experienced actors who can deliver Murder Mystery evenings full of fun and intrigue – perhaps themed to a specific period or situation of your choice but always with an interesting plot to captivate and challenge our audience!
We create the script, plan and deliver the entertainment and, above all, make sure everyone has a great time. Our audiences can be as involved as much as they wish and the plot can be tailored to suit your needs – it really is as simple as that. The plots all contain clues and, of course, red herrings, but there is always the opportunity for keen sleuths to identify the culprit.
With an experienced cast, you can relax in the knowledge that your guests or staff will be delighted with the antics of Moonstone's mysterious murderers! We offer real flexibility so we're happy for you to tell us what you're looking for. We'll then work with you at every step to ensure that the evening meets your needs. If you prefer to just leave it to us to set the pace and the action, that's fine too.
The action usually lasts from around 7pm until 10pm but we can be flexible to your needs, and we offer flat fee or "shared risk" pricing options. We can also adjust the numbers of actors required to fit both your budget and your venue. We can offer evening, lunchtime and afternoon tea performances.
Whatever you choose, you can be sure of a quality event from a team of quality actors.