imaginative theatre
enthralling events
Based in South West and South EastEngland we perform theatrical shows and role play activities, classic period murder mysteries and comedy themed evenings together with a wide range of entertaining events
If you enjoyed "Allo Allo", why not book one of our interactive comedy dining events and spend an evening at Cafe Rene. With all new madcap stories to enjoy (and some voluntary audience participation) it's a fun evening and a tribute to this great comedy TV show. Our Rene also appeared on ITV's All Star Mr & Mrs asking questions of Vicki Michelle, one of the stars of the original series.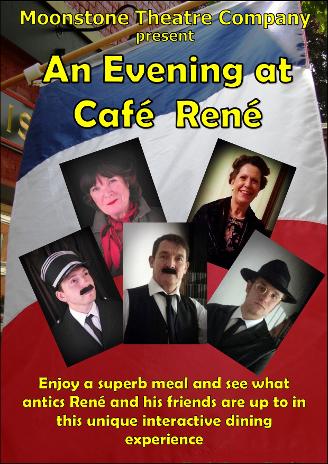 Dead in the Water
Our new original whodunit stageplay for 2022 will premiere at the Manor Pavilion Theatre in Sidmouth in February.
Presumed Guilty
Our new play for 2020 premiered for a sell out audience who braved Storm Denis and came along to the Manor Pavilion Theatre in Sidmouth on the 15th February. Another original Classic Period Whodunit stage play from Moonstone Theatre.
We will be taking the play to the Palace Avenue Theatre in Paignton in September 2021.
Dead on Arrival!
Our brand new original full length play, Dead on Arrival - a classic whodunit, played to a full house of appreciative guests at the Manor Pavilion Theatre in Sidmouth on the 2nd March 2019.
We took our comedy spoof of Pride and Prejudice "Lunch at Longbourne" to the Theatre Royal Bath in 2018. We're were back in 2o2o with Classic Period Murder Mystery "The Pump Room Murder"
On Saturday the 4th March 2017 we performed our original whodunnit play "Final Curtain", written by Nigel Howells, at the excellent Manor Pavilion Theatre in Sidmouth.
Our plot kept them guessing right until the end and we had a great night with a lovely audience. our new play called "Dead on Arrival" premieredon the 2nd March 2019
The Manor Pavilion has a great range of performances on during the year and is also home to the last surviving weekly summer rep in the country. 12 plays over 13 weeks and well worth checking out.