Moonstone Theatre Company can provide actors to add real atmosphere, historical accuracy, fun, and reality to your event. Here are some examples;
We performed for the Royal Seven Stars in Totnes for their "Last Night of the Titanic" evening.



We regularly perform Panto Characters for the Babbacombe Model Village in the run up to Christmas, together with Moonstone's very own "Potted Panto". We also provided Alice in Wonderland characters for them in too, together with a piece of theatre "The Mad Hatters Tea Party".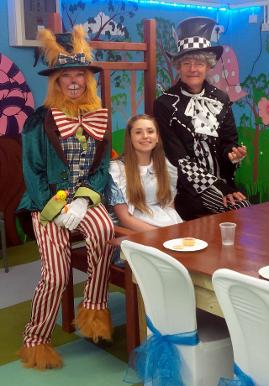 We also work with the Model Village in Babbacombe for their "Halloween Evening of Mini Horrors" providing characters and spooky storytelling from the master of the Edwardian Ghost Story, M R James.
We have performed at Morwellham Quay, Nr Tavistock providing a Harbour Master for their Queen Victoria Day. He taught Royal Etiquette to the visitors, met Queen Victoria off her boat and took her on a tour of this fascinating village in the heart of a World Heritage site.
To contact us for more details, click here