imaginative theatre
enthralling events
Based in South West England we perform theatrical shows and role play activities, classic period murder mysteries and comedy themed evenings together with a wide range of entertaining events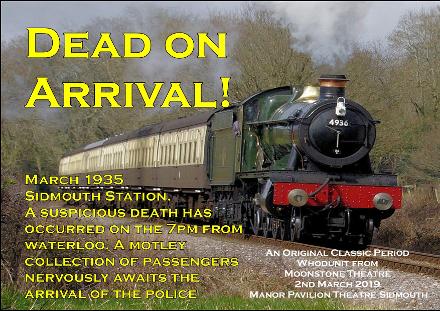 Coming inMarch!
Our brand new original full length play "Dead on Arrival" - a classic whodunnit.
This will premier at the Manor Pavilion Theatre Sidmouth on the 2nd March 2019
It was our fifth birthday in February 2017 and we had a great birthday message from Boycie himself!
2018 marks a new adventure for us as we set up Moonstone London. Click here for further details.
We took our comedy spoof of Pride and Prejudice "Lunch at Longbourne" to the Theatre Royal Bath in 2018. We're been back in 2019 with Classic Period Murder Mysteries "Death of a Suffragette" and "A Study in Murder" We are also currently working on a Murder Mystery based on Mansfield Park for later in the year.
On Saturday the 4th March 2017 we performed our last original whodunnit play "Final Curtain", written by Nigel Howells, at the excellent Manor Pavilion Theatre in Sidmouth.
Our plot kept them guessing right until the end and we had a great night with a lovely audience. our new play called "Dead on Arrival" premiers on the 2nd March 2019
The Manor Pavilion has a great range of performances on during the year and is also home to the last surviving weekly summer rep in the country. 12 plays over 13 weeks and well worth checking out.